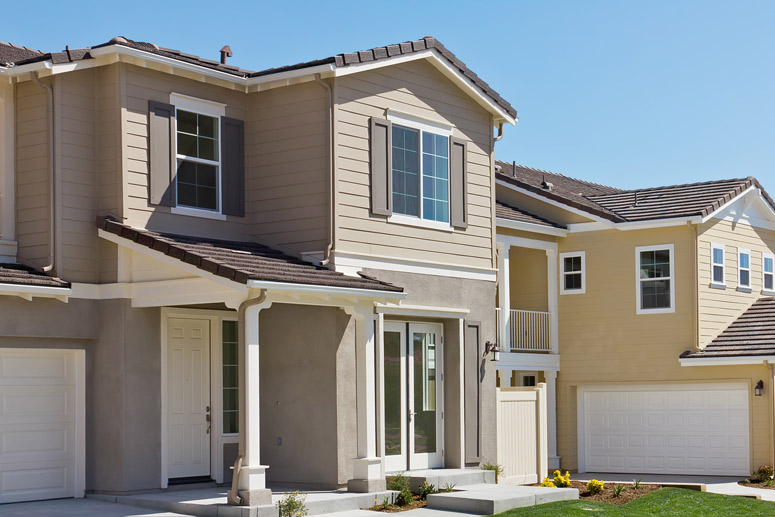 Siding & Stucco
Colorado weather can be harsh to say the least. The exterior of your home is there to protect your family from the elements. We provide you with the peace of mind that your home is safe and able to withstand the most grueling of Colorado elements by offering several types of siding and stucco.
Our standard exterior services include hail and wind damage repair, keeping the look and feel as-is to match your insurance coverage. We also offer upgrade services for that "while you're in there" approach or when your home just needs new style.
Types of Siding
Fiber Cement Siding
We use the highest quality brands for our fiber cement siding, also called cement board or James Hardy siding. All if our products are fully guaranteed and are meant to last. Fiber cement siding is a great alternative to wood and is not susceptible to rot or termite damage. The denser materials have great impact resistance and help protect your home from rough Colorado weather.
High Performance Vinyl Siding
Vinyl siding takes a green approach and is energy-efficient as well as cost-effective. Due to the advancements in technology, we can deliver a highly detailed vinyl siding that can resemble shake, wood textures, and look indistinguishable from the real deal – making it a great choice. Plus, we guarantee top-quality products and certified installation. Brand options include Cedar Max Ply-Gem and Royal Building products.
Engineered Wood Siding
We are experts in engineered wood siding! Engineered wood is more cost effective than real wood and offers benefits such as termite protection, weather resistance, and reduced maintenance costs. If you are looking to achieve a real wood look without the disadvantages of natural wood, then this is the product for you.
Exterior Trim
The exterior trim is an important part of your home or business exterior. With a large selection of products from trusted brand leaders, we are sure to have what you are looking for. Our trim is professionally installed and is guaranteed to last.
Stucco
Beautiful, strong and long-lasting stucco is a great choice for your Colorado home or business. Our superior, quality materials and installation will give you years of added value. Regardless of the many types of stucco we use, we apply it all with the right technique for each project.
Homeowners and business owners alike also favor stucco's durability. It expands and contracts with the weather, which helps minimize cracking. Rot, mildew, and mold are no match for stucco. It is also fire-retardant and can act as insulation from sound transmission, which helps when living by a noisy freeway or busy neighborhood. Best of all, it is very energy-efficient which saves money on your heating and cooling bills.
What to Know About Stucco
We offer stucco services for both residential and commercial.
Our superior, quality materials and installation will give you years of added value.
We use many forms of stucco: synthetic, concrete, elastomeric, exterior insulation and finish systems (EIFS) while using heavy hand, smooth, sand, and float techniques to apply it.
We can even do stucco over siding.
Contact us today to request more information or an estimate.